Visit Lighthouses
We love Washington lighthouses
All the lighthouses on the map can be visited. Click on a lighthouse to see details.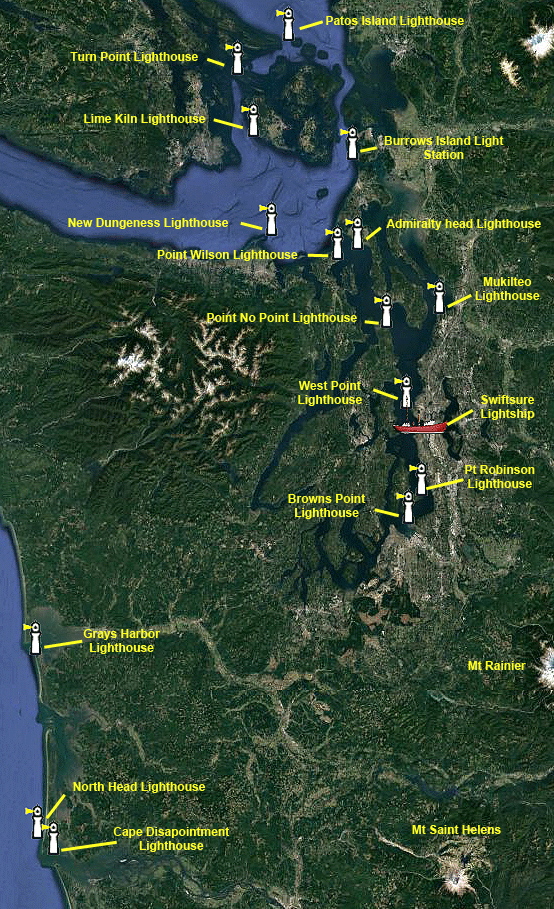 Linked lighthouses in this list can be visited (some only by arrangement) and are the same ones as seen in the map above.
Admiralty Head Lighthouse
Alki Point Lighthouse
Browns Point Lighthouse
Burrows Island Light Station
Cape Disappointment Lighthouse
Cape Flattery Lighthouse
Cattle Point Lighthouse
Destruction Island Lighthouse
Dofflemyer Point Lighthouse
Gig Harbor Lighthouse
Grays Harbor Lighthouse
Lime Kiln Point
Marrowstone Point Lighthouse
Mukilteo Lighthouse
New Dungeness Lighthouse
North Head Lighthouse
Orchard Point Lighthouse
Patos Island Lighthouse
Point No Point Lighthouse
Point Robinson Lighthouse
Point Wilson Lighthouse
Swiftsure Lightship
Turn Point Lighthouse
West Point Lighthouse

Click on the picture to get a copy of the Lighthouse Loop Brochure.